All Royal Tours originate in Lafayette, In.  (With the exception of Fly Tours)
Call our office 765-447-9321 or 800-642-6645 for routing of Royal Tours and additional points of pick-up.
Click on the bus on the map to plan the route from your home to Imperial Pick up Location (Motorcoach Facility).
---
Pick-up & Drop Off Locations
FREE PARKING – IMPERIAL ROYAL TOURS MAINTENANCE FACILITY: (ALL TOURS ORIGINATE IN LAFAYETTE)
at 2575 S 30th Street, Lafayette, IN (Parking lot Well lighted with Security Cameras)
MAP A: Motorcoach Tours Traveling SOUTH: (DEPARTURE & RETURN POINTS)

LEBANON PICK UP: Econo Lodge located at 1245 W State Road 32.
INDIANAPOLIS PICK UP: Costco Gas Station located at 9010 Michigan Road.
Other pickups along tour route may rearranged. (Ask for details when you call to make your reservations!)
MAP B: Motorcoach Tours Traveling NORTH: (DEPARTURE & RETURN POINTS)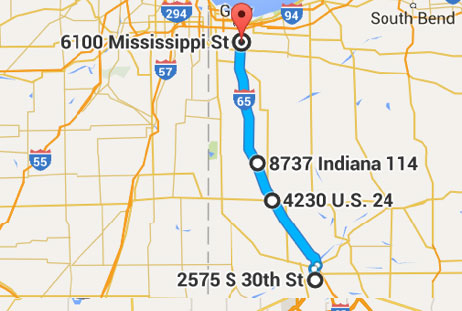 REMINGTON PICK UP: Petro Station located at 4230 W US Highway 24 Exit 201 & I-65.
RENSSELAER PICK UP: KFC located at 8737 W State Rd 114 Exit 215 & I-65.
MERRILLVILLE PICK UP: McDonalds at 6100 Mississippi St Exit 255 & I-65.
IMPORTANT INFORMATION
Our departure locations are doing you and Imperial a service by allowing us to use their establishments for departures and arrivals. Not all of these locations allow parking. If you must leave a vehicle parked while on tour, kindly check with someone at that pick-up point. Neither these locations nor Imperial are responsible should damage occur to your vehicle.
Other pick-up points may be arranged depending on tour destination. Ask for details when you call to make your reservations.